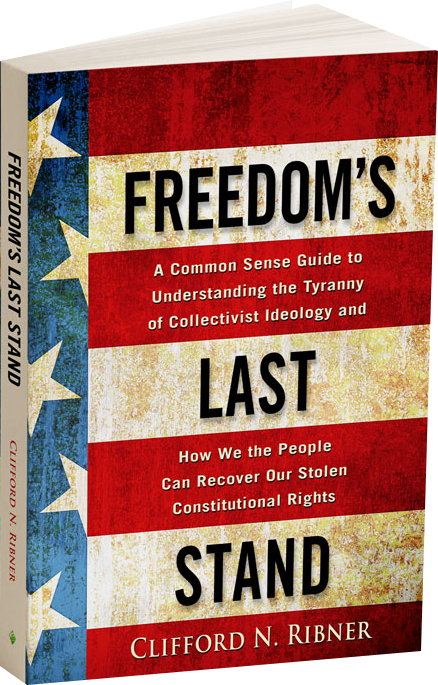 "Brilliant. Insightful. A Must Read."
Clifford N. Ribner holds a J.D. from New York University School of Law and graduated with an A.B. Magna Cum Laude from Cornell University. A former adjunct professor of Law at the University of Tulsa College of Law, Ribner is a member of both the New York Bar, the Oklahoma State Bar and in the Federal Courts, the 10th and 4th U.S. Circuit Courts of Appeals, U.S. Tax Court, and Supreme Court of the United States.
Ribner has over 40 years of experience in complex tax law and litigation, including multiple jury trials and appeals. For over 25 years he has been honored by his peers with the distinguished Martindale–Hubbell AV Preeminent Award. Perhaps his most unique attribute is his profound understanding of history, especially as it relates to the American government, the Constitution, and the founding of this country.
"How could we possibly have gotten to this point, here in this amazing nation, and more importantly, how can we fix all this now and get back to being safe, rich, powerful, and above all, free, with boundless opportunities for everyone?" – Clifford N. Ribner
The Best of Clifford Ribner
The description in the article below of what is going on in Communist China, its insane levels of debt and impending bankruptcy (the communists running China, forcing all its people into servitude to them, may first go to war to distract people from the corrupt...
read more
Join our mailing list
receive notification when this site is updated.
"A brilliant analysis of where we stand today politically and economically. Ribner applies philosophy, theology, sociology with detailed history and law to weave together an irrefutable argument of what went wrong, when and how."
"Excellent. Well-researched with great insight. Wish that every politician would read this as we really need to implement some of these ideas and get the country back from the brink of a third world welfare state."
"The author comprehensively and thoughtfully explains the development of America's unconstitutional and ineffective administrative state. He also provides a unique, creative solution for dismantling it and restoring a plethora of freedoms taken from our citizens by administrative agencies."